By Allison Linville
Last weekend, a group of CutBankers visited our neighbors in Whitefish for the release of Whitefish Review's fourteenth issue, the Hunger Issue.
The Whitefish Review was created in 2007 by Brian Schott as an outlet for creative writing, art, and photography with a slant toward mountain culture.  While Schott is the founding editor, Issue #14 was edited by Matt Holloway, Whitefish Review's fiction editor.
When I first moved to Whitefish in 2008, I picked up one of the early issues of the Whitefish Review at Bookworks, the local bookstore.  I was amazed that a small ski town produced such a high-quality literary publication, and I knew immediately that there was some incredible talent in the Flathead Valley.  I have been increasingly impressed with the following that the Whitefish Review has earned and the popular authors that they publish as well as their commitment to discovering new, young authors.
The release party on December 14th brought together well-known authors with emerging writers to read and mingle at Casey's Bar in Whitefish.  Supporters of the creative arts community arrived to fill the venue and remind us of the astounding support for the arts we receive in Montana.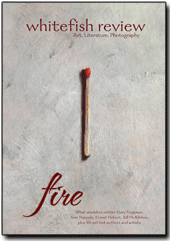 The event featured readings by Kate Ehrenburg, a young, local author, as well as Charles Finn, David Allen Cates, and Tim Cahill.  The crowd was energetic and engaged as each reader presented their work.  The event was a brilliant success and I am excited to attend the next release party in honor of upcoming Issue #15.
Cutbank staff would like to thank Brian Schott and the Whitefish Review crew for partnering with us and including us in the event. We appreciate the recognition and the opportunity to sell various items including 40 Years of Cutbank anthologies and Cutbank issue #79.  The writing of David Allen Cates, who had work published in Whitefish Review's Hunger Issue and read at the release, is also featured in 40 Years of Cutbank, which is available in our online store.